10 tips how to create more volume in your curly hair
You'll probably recognize this: you have a good curly hair day, but it's flat at the roots. You're not alone! Many people with curly hair struggle to create volume at their roots, because the weight of their curls pulls their strands down.
Most people think that natural curls automatically have maximum volume and more defined curls. But this is not always true. Each are individual curls with different texture or root volume.
We don't just want super defined curls, we want volume! Luckily, there are some tricks and tips to add more volume to curls.
We'll share a few awesome tips below. For example tips how to get curly hair volume with a quick and easy way for air blow drying your hair or giving your own hair a root lift.
Also read: How to care for fine curly hair
Curly hair tip 1: get a haircut
First of all, it's a good idea to go to the hairdresser regularly so that your hair doesn't become too heavy.
If your curls haven't been trimmed in months, the length may be working against you. Because the shorter your hair, the firmer your curls will be. And the longer your curls, the heavier they get.
This stretches your hair, making your curl pattern appear looser and flatter. A good haircut can help create a lot of curly hair volume by taking off all that extra weight and creating natural lift.
That doesn't mean you need to have short hair in order to add volume. A stylist will be able to advise you on what's best for your specific curl pattern, density, width and length.
Don't worry about losing lenght if you don't want to or finding the right shape for your hair type. Just discuss it with a hairdresser and he or she will give you all the tips you'll need.
The last thing you can also discuss is about maximizing with a layered cut . Then your waves, curls and coils won't be as heavy as before. Believe us, it will bring your coupe back to life.
Also read: Cutting curls: the different curly hair-cutting methods
Curly hair tip 2: use a volumizing shampoo
You can also create more volume in curly hair by washing it with a volumizing shampoo. These are often light and don't weigh your hair down.
There are many options, so pick one that will give your curls what they need, as well as providing a lift and thickening.
Are your experiencing dry hair?
We understand that you want curls and not frizz. So make sure you're not wash your hair with shampoo more than once or twice a week. Also check if you are continiously moisturizing your hair for that perfect moisture boost.
You can use a conditioner brand like Shea Moisture of Curlsmith.
Are you in a hurry? Volumizing products like a leave in conditioner and a volumizing foam is a go to for still adding volume to curly hair.
Curly hair tip 3: get thickening hair products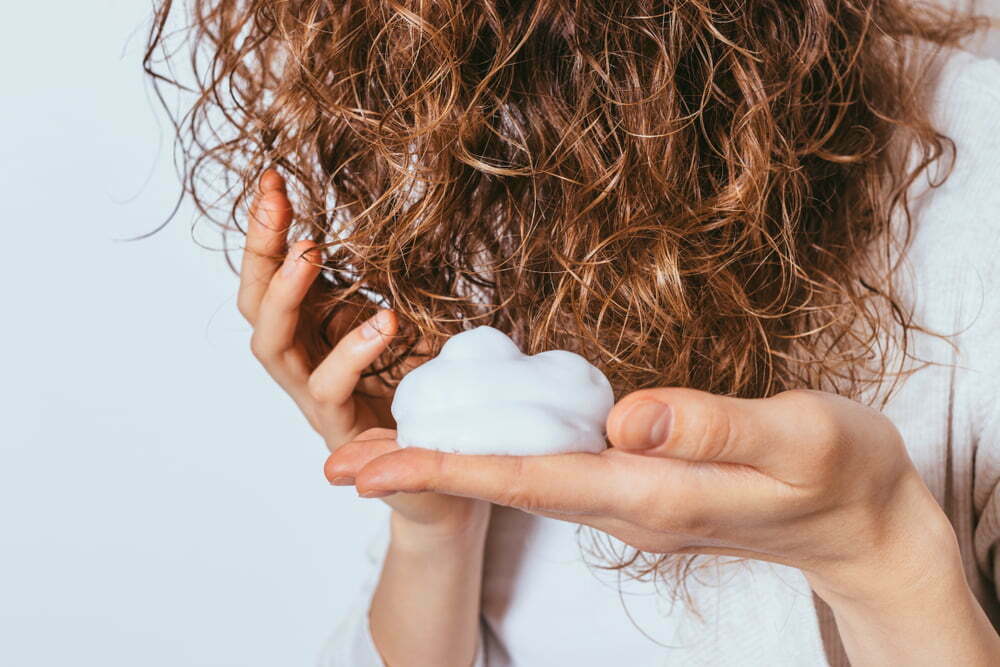 Like volumizing shampoos, there are many thickening hair products that can add volume to curly hair. Focus on products that are specifically for volume to achieve more voluminous curls.
A thickening mousse, for example, is lightweight and the airy formula will give your roots lift and volume. This is especially a good one for people with fine curly hair.
Curly hair tip 4: clarify your curls
If your hair is flat at the roots, it may be weighed down by product buildup from your moisturizers and stylers. Therefore, occasionally use a clarifying shampoo to remove all buildup from your hair.
It gives both your scalp and strands a fresh start. As a result, your curls will feel lighter, look more lifted, and your styling products will work more effectively too. 
Rinse upside down to lift at your scalp and roots with your fingers to create texture.
Curly hair tip 5: hair plopping
Hair plopping is a way to make your curls dry faster on a wash day. It also provides defined and frizz-free curls with volume.
Instead of letting your curls dry "hanging", plopping will accordion your curls, helping them keep their defined, spiral shape. 
You don't use a normal towel for this, because that's made to absorb the moisture from your hair. And moisture is very important for curls, which are naturally very dry and sensitive.
That's why you should use a soft fabric, such as a cotton t-shirt, microfibre towel or hydrophilic cloth. You plop your wet hair after you've applied your styler and before you start to dry your curls.
Whether that's in the morning or at night before going to sleep doesn't matter.
Also read: The pros and cons of hair plopping
Curly hair tip 6: try root clipping
Another way to get voluminous curls is clipping your root. This is a technique where you apply hair clips in your strands to create volume at the roots.
Are you not a big fan of a wet blanket look that you create when your curls dry flat against your scalp? Then you can use duckbill clips.
Duckbill clips will be the easiest to use without frizzing up your curly hair volume. Do your normal wash and style routine, and start with clipping your roots while your hair is still wet.
Grab a small section of curls at the roots, lift it upwards and clip close to the scalp. Focus on the sections around your crown and surrounding your face.
Let your hair air dry and expect a lot of volume!
Curly hair tip 7: diffuse your curls
Within the Curly Girl Method, the use of a hair dryer is not recommended. Air-drying is much better for the health of your hair, but it doesn't always help with volume.
Wet strands are weighed down by moisture, which is why your roots appear flat even when your curls are completely dry.
Diffuse upside down with a Dyson to add volume to curly curls
Luckily, there is a correct way for blow drying your hair, and that's with a diffuser.
A hair dryer that's really suitable for this, is the Dyson Supersonic hair dryer. It has an intelligent heat controller, that measures the air temperature 20 times per second and adjusts it if necessary.
This way, you won't damage your hair with high temperatures, and you don't have to use extra protective hair products.
To protect your curls from heat damage, it's important not to use the hottest setting of your Dyson Supersonic hair dryer.
It's best to use the medium or cool setting. Use the diffuser attachment and flip your hair upside down and diffuse upside down for an extra boost. 
Keep the dryer close to your scalp and while diffusing upside down use a circular motion.
Aside drying your hair upside down it is also a possibility to dry your head while angling your head if you don't feel comfortable drying your hair completely upside down.
Also read: Review: Dyson Supersonic hair dryer for curly hair
Extra hair dry tip to volumize fine hair
You can also dry your hair while you have a clip at the roots. With this method you can air dry your strangs all the way down. Pin each individual curl at the bottom so your ringlets are standing out from your head.
This method works for all hair types like wavy, curly and oilky hair. We believe this is a perfect extra way to get extra volume to fine hair.
Curly hair tip 8: fluff your roots
Use your hands to add volume to your curls! At various moments throughout the day, flip your head forward and fluff your roots.
It's best to do this only when your hair is completely dry, to avoid creating frizz instead of volume. This might be the most fun way to create more volume in curly hair!
Using dry shampoo on a regular basis can help to still achieve that washed hair feeling but without truely washing your hair. It will also lift your roots. Extra bonus!
Extra fluffy tip with the backcombing technique
Fluffing your coupe is a good way for those with tigher curls or thicker strands. Especially for those who normally don't struggle with achieving volume but want even extra volume in the curls. Let's go big hair!
You can also say that their motto for big hair is: 'The bigger, the better!'
If this is what you or your hair desires then the only thing you will need is a wide toothed comb or a hair pick.
A hair pick is a must-have tool for adding volume in the right places and add volume to curly fine hair. To create height lift a section of curls with your hands and pick in an upward motion to create the curls with fluffing while staying close to the scalp.
Avoid using a pick on the top layer or through the ends. Otherwise you will create frizz and that is not what you want.
The backcombing technique is a technique used on straight hair to achieve voluminous curls by using a fine-tooth comb. The only thing you have to do is brush the hair upwards towards the roots.
The funny thing is that the opposite technique works perfectly for those with curly curls.
To use this method with curly curls just slip the wide-tooth comb into your roots and carefully pull outwards. Do not comb all the way down.
Curly hair tip 9: give definition with a Denman Brush or fingers
When you want to create that extra. You can add a Denman Brush to your routine or just easily use finger coiling for creating extra texture to your curls. It will give you that extra volume to curly hair.
To prevent frizz only use this method while your curls are wet. After you can style like you want to. The easiest thing to do is to brush just when you are done with showering and washing.
Your strangs can break when your curls are to dry. It will only do more damage then you want.
Curly hair tip 10: use the right styling products
Keep in mind which products you use. For example heavy creams can weigh your curls down. Then it will be hard to achieve big voluminous curls.
Our tips are to use light weighted products except you have less hair (low density). Then you can try and style your curls with more heavy products.
But we really want to tell you that every type is different. So it's all about experimenting and style your curls in different ways to find out which style works the best for you.
Any other questions on how to create volume in curly hair? Or do you have other tips that you want to share with the curly hair community? Let us know on Instagram!